GOLD 2,072.04  1.67  |  SILVER 25.48  0.78  |  PLATINUM 954.24 0.82  |  PALLADIUM 1,038.61 -0.48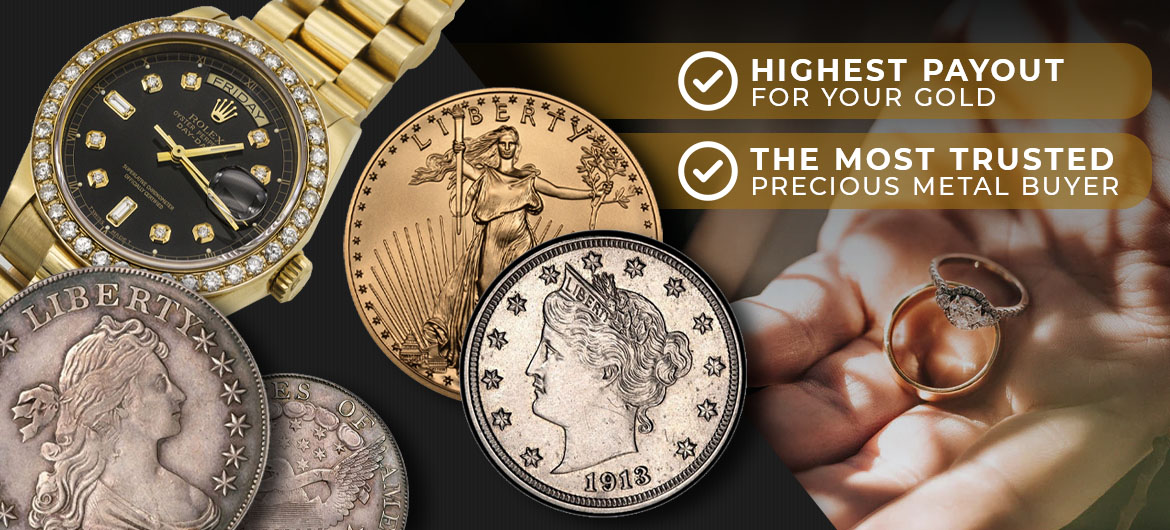 FREE APPRAISAL
Below Are The Brands We Buy
Aydin Jewelry, is a leading Luxury Watch buyer in United States, offering you competitive pricing and immediate payment when you are ready to sell your luxury watch. We work very hard to make your selling experience as safe, confidential, informative and profitable for you as possible.
Do you have a high-end watch that you were interested in selling? If you are just wondering what your fine watch was worth. Please fill out to form below to request a free offer from us  today. We provide a great service… Watch Buyers BY Aydin Jewelry, Some of the brands we buy are  Rolex, Cartier, A.Lange, Hublot, IWC, Patek Philippe Watches and more.
The Most Reputable Gold Buyer
Free & Insured FedEx Shipping: Insured up to $100K
Same Day Payments: Have money in your account within 24hrs
Price Match: We'll match any competitor's price
Satisfaction Guaranteed: Or we'll return your items free of charge
Please use the United States Postal Service (USPS) to mail your items. Before placing the coins in the box, bubble wrap your coins and pack the box. Make sure that the box is packed tight, otherwise the coins rattle around and become a high risk for theft. Be sure to tape the edges of the box, this well prevent coins from sliding out. We will reimburse your shipping cost if you sale to us is more than $300. The post office provides Free Flat Rate Boxes in various sizes, for larger sales we could provide you with Free Shipping Label.
The Small Flat Rate box is $7.05 which includes tracking and insurance. If you are sending a lot of coins and they are heavy, the small Flat Rate box is the way to go. If it fits, it ships! If you have decided to send a large number coins and need a larger Flat Rate Box we will cover the cost!
Please print a copy of the packing slip that the site generates for you, and include it with your package. If you don't have a printer you can write down the information from the packing slip and include with your package.
Shipping Address.
AYDIN C&J
119 E Main St.
Ramsey, NJ 07446
Please add the following email addresses to your email safe sender lists:
*@aydincoins.com
Fill out the form below to get a free appraisal today. Once filled out, one of our representatives will reach out to you and setup a secure, easy, and free way for you to send in your appraisal items.
Highest Payout in the Industry
At Aydin Jewelry we pride ourselves on providing fair and honest offers. If you find a higher offer from an online competitor, we'll match it! In addition, to show our dedication to your satisfaction, if you are not 100% happy with our offer, we will safely return your unwanted items for free.
Our appraisers have a combined 50+ years of experience working with precious metals, diamonds and gems. Leveraging their trained eye as well as our top of the line technology ensures our customers will get the most money for their items. Rest assured your working with a company that is knowledgeable, experienced, and one step above the rest!
Not only do we have some of the highest payouts in the industry, but we guarantee you will be satisfied with your offer, service and selling experience!
1 – Send us your items
Fill this form and one of our experienced representatives will contact you shortly to discuss a secure, easy, and free way for you to send your items to us for appraisal. When we get your items, our precious metal experts and gemologists will send you an appraisal.
2 – Accept & get paid
Once you have accepted our offer, we will get in touch with you to finalize payment see how you would like to accept payment. If you're not completely satisfied with your offer, please let us know, and we will happily mail back your items at no cost to you.
Highest Payout in the Industry
We will give you the best price for your gold, jewelry, diamonds, silver and platinum.
With over 50 years of experience, our team of expert appraisers will carefully examine and test your gold, jewelry, diamond, silver and platinum using our cutting-edge technology to determine its value. Your item(s) will also be evaluated on the following:
The current day's gold price
If your item contains precious metal
The weight of the precious metal
The purity of the precious metal
Any specific item characteristics
How much precious metal you send us
The combination of these specifications will help us calculate your offer. If you are not happy with your offer, we will gladly return your items free of charge, no questions asked.
*Flip your mobile device sideways for a full view of our precious metals live price calculator.